I headed to the Outlet Mall today to check out new arrivals at J. Crew and then to Old Navy. I had hoped to do some reviews for ya'all, but none of my pics turned out. Every. One. Was. Blurry. Grrrrr. How do you ladies do it?!?!
Check out Gigi's Old Navy reviews
HERE
. She tried on the same stuff I did and her reviews AND PHOTOS are awesome!
I did see a Polka Dot Chambray Shirt at Old Navy that I don't see online. Wish I had a pic for you. The fabric weight and the size of the polka dots were VERY reminiscent of the J. Crew Polka Dot Chambray. It had 2 pockets on the front. Actually the same cut, style, etc. of the shirt I'm wearing today in the photos below. It was $24.94 and Old Navy has a 25% off coupon you can print online. A very good deal. I didn't buy because how many polka dot chambray shirts does one really need? I prefer my Gap Polka Dot Chambray as I love the larger polka dots. That being said, for $19 I might go back and get it tomorrow.
Old Navy recently added some chambray polka dot shorts online. I had hoped to check them out in-store, but no such luck. They were just putting out all the new arrivals today. Cute, huh?
Old Navy Polka Dot Chambray Shorts $22.94
My foray to the J. Crew Outlet was a huge disappointment. I didn't really see anything that caught my eye. The couple of things online that I wanted to check out IRL (see below) they didn't have.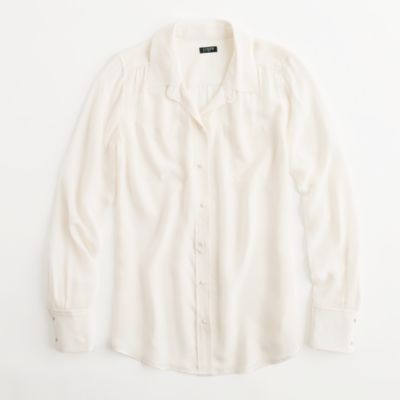 J. Crew Factory 2 Pocket Silk Blouse (Factory Version of the Blythe) in Alabaster $66.50
J. Crew Factory Perfect Shirt in Navy Polka Dot $35.70




I did end up purchasing the Factory Draped Novelty top. It is Poly, but I don't mind. It is very similar to the J. Crew Polka Dot silk top with the exposed zipper that I missed and have been stalking ever since. This is a nice substitute IMO. It is $45.15 online, but was higher in-store. They did price match, but I had to be told at least 100 times that they don't usually and really shouldn't. I didn't hold a gun to their head - honest. BTW I took an XS so it seems to run a little big.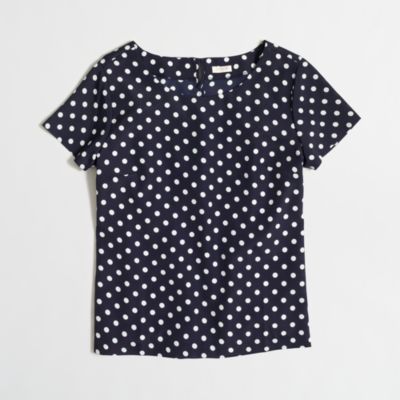 Factory Draped Novelty Top $64.50 - $51.60 in-store - $45.15 online






Following is the outfit I wore today for my shopping excursion. My go-to outfit for shopping is pants or shorts and a button down shirt and
comfortable
slip on and off shoes and no necklace. It makes it easy in and easy out in the dressing room.
Old Navy Plaid Shirt
J. Crew Chino Shorts
J. Crew Belt
Lands' End Canvas Sandals